Key Parameter to Verify Before Buying a Yacht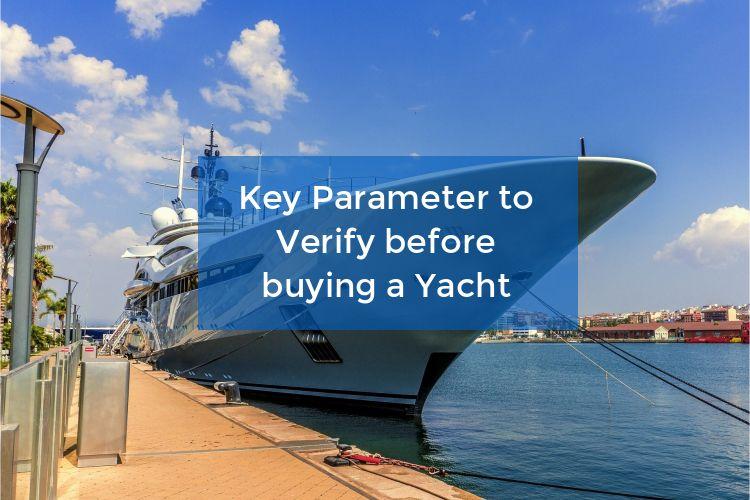 The key parameter you must verify before buying a yacht
Yachts are some of the most expensive vessels in the market. They are not only means of transport but also recreational vessels fitted with anything your heart desires. Some consider them to be an engineer's dream made reality. They are massive luxurious floating entities that can have on board guests, crew members, helipads, pools and many more facilities found in the most luxurious hotels in the world. This is why in terms of price, they are quite spicy as well. Therefore, deciding to buy a yacht is not an easy choice to make. If you have the means as well as the desire to invest in the yacht, then there is only one thing left to do. Find the right one!
There are a number of parameters you have to keep your eye on before buying a yacht. So do your research properly and learn which one is the key, so you don't waste your time researching features that are not crucial to the longevity of your yacht.
What to consider before you buy a yacht
Yachts are complex vessels which is why they have a lot of parameters you need to consider and compare before deciding to invest your money into one. Some of these parameters, in no specific order, include fuel consumption, basic equipment, spare parts, price, engine parameters, dimensions, power, speed power and more.
The most important parameter to consider before buying a boat however, is probably the displacement value. It is considered as the most accurate measure on the volume of the boat. Despite it being the key parameter to measuring a yacht, displacement might not be the one you are interested in. For many people looks are important. For others, it is the facilities that make the difference. Therefore, displacement is the general parameter that differentiates boats in terms of size, but everyone has different key parameters that are unique to their needs.
Compare parameters before buying a boat
If you have found the boat you think has the most fitting specifications regarding your most important parameters then you are half way through your task. The job is not done yet. In order to get a clear picture of whether you have found the right boat for you, you need to compare the same parameters between different boats.
To do so, use TheBoatDB, a database designed to compare boats and facilitate the decision making process that anticipates a purchase. TheBoatDB includes a list of parameters you can compare between shortlisted boats. Register you boat and compare it with other boats within the database. You can include the one you need and see the specifications of the models you are interested in. Once you have a clear image of what you are getting for your money then you can make an informed decision and enjoy your new yacht.