Top 10 yachts of 2019 and their Features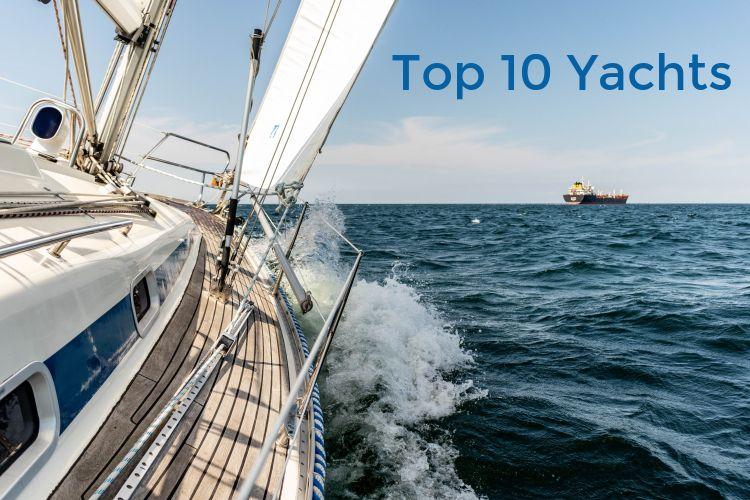 ind Out the Top 10 Yachts of 2019 and their features!
Are you curious to find out which yacht made the list of the best 10 of 2019? Here is a countdown.
The DAR made the list based on its design features, technical solutions and aesthetics. The DAR is almost 92 meters long and is considered as being the best motor yacht of this year. Some of its best features are the waterfall, the pool, its organic lines resembling a shark, its ocean themed interior and the usage of leather in the internal spaces.
The Black Pearl is almost 110 meter long and is known as the best sailing yacht of 2019. It's best features are its size, low fuel consumption, state-of-the-art technical solutions and ultimate comfort.
The Rosehearty is another award winning yacht in 2019. It is 56 meters long and it is mostly known for being a high latitude voyaging yacht.
The Benetti's Spectre is next on the list. This is a 70 meter long yacht that is able to reach a speed of 21 knots. It has a great master cabin displaying great views, a gym, a platform that can get you to the water and many more interesting features.
The Utopia IV is another great yacht appreciated in 2019. It has four hydro jets, Rolls Royce engines, six cabins, a glamorous VIP suite, large swimming pool, a sun deck and an outdoor lounge.
The Power Play is a 70 meter long yacht reaching up to 20 knots on sea. It has three cabins and can accommodate six guests. In terms of crew, this yacht can accommodate a total of eleven people. One of the best features of this yacht is the deck crane.
The White Rabbit is a 83 meter long yacht owned by Goh Cheng Liang. What is new about this yacht is that it is considered a trimaran superyacht all built in aluminium. It comprises two master rooms, three VIP rooms, a spa, a gym, a cinema and of course additional rooms to accommodate a crew of almost 50 people.
The Seven Seas is a $200 million yacht reaching 85 meters and it weighs 2750 tonnes. It was built in 2010 and can reach a speed of up to 20 knots. This yacht can accommodate 14 guests on board and 23 crew members. The thing that makes this yacht unique is that is has been reconstructed with a new steel hull.
The Octopus is another $200 million yacht owned by Paul Gardner. This is a motor yacht that is usually leased for specific missions such as exploration, scientific reasons or rescue missions. It includes a studio, a bar, a basketball court, a pool, two submarines, six cabins and additional sleeping quarters for crew members. This yacht is 126 meters long and reaches 20 knots of speed.
The Dilbar is a superyacht that costs about $250 million and is owned by Alisher Usmanov. It is almost 110 meter long and has multiple swimming pools, numerous rooms, a helipad and various quarters for the crew members.
Do you have a new idea on how to better rank yachts, starting from the best? Browse through all TheBoatDB yachts and create your own custom made shortlist! Continue reading out articles at TheBoatDB for more information on yachts or sign up to our newsletter to always be up to date with everything related to boats and yachts.